Welkom! Leuk dat je mijn website hebt gevonden.
Ik ben Merel, woonachtig in Nederland en ik heb met liefde, strijd en passie alle werken gemaakt die je op deze website vindt.
In 2013 ben ik teken- en schilderlessen gaan volgen, wat ik tot op heden met veel plezier doe! Dit omdat ik al sinds kleins af aan graag teken en hierin wilde groeien. Aan mijn werken kun je zien dat ik van afwisseling houd en uitdagingen niet uit de weg ga. Ik heb een vlotte schildersstijl en schilder met zowel acryl- als olieverf en zowel met kwasten als paletmessen. Mijn werken zijn altijd figuratief en veelal kleurrijk. Schilderen is inmiddels meer dan een hobby geworden en ik werk ook in opdracht. Mijn werk aan andermans muur is een beloning en bekroning op mijn werk!
Mijn artiestennaam heeft wellicht wat uitleg nodig. Foochel: Merel, ook wel 'Vogel' genoemd door vrienden, bekenden en ander gevogelte, fogel, foogel, foochel. Je ziet het; de naam is even creatief als ikzelf.
Graag deel ik mijn kunstwerken met de wereld want kunst maakt je wereld mooier! X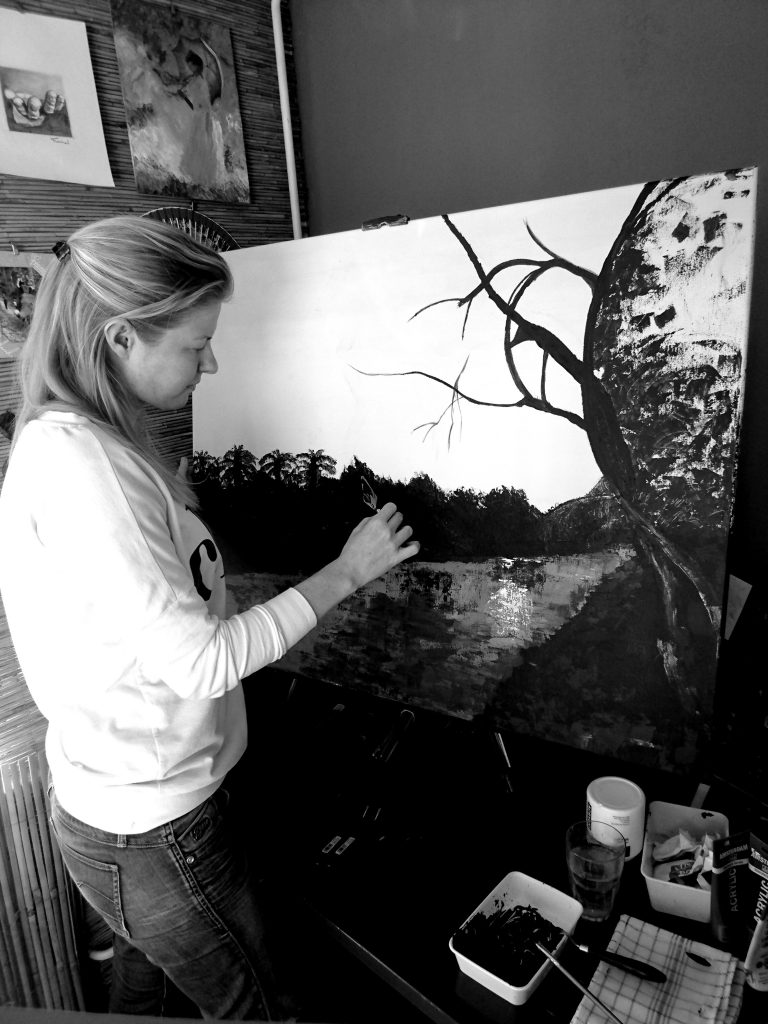 As I realise that not everybody in this world speaks/reads Dutch as fluent as I do; below a translation for you in English. Just for you. You're welcome 😉
Welcome! Nice that you have found my website.
I am Merel, living in the Netherlands and I have made all the works that you'll find on this website with love, struggle and passion.
In 2013 I started taking lessons in drawing and painting, which I still enjoy doing a lot! This is because I have loved drawing since childhood and I wanted to grow in it. You can tell from my art work that I like variety and I don't avoid challenges. I have a smooth painting style and paint with acrylic and oil paint and with brushes and palette knives. My works are always figurative and often colourful. Painting has now become more than a hobby and I also work on commission. My work on someone else's wall is a reward and a reward for my work!
My artist name may need some explanation. Foochel: Merel (Blackbird), also known as 'Vogel' (Bird) by friends, acquaintances and other poultry, fogel, foogel, foochel. You see; the name is as creative as I am. You might not understand the explanation because in English it just doesn't make sense. I know, you wish you were Dutch now, don't you..? Anyway….
I like to share my artworks with the world because art makes your world more beautiful! X